Bolt & Fastener Hardening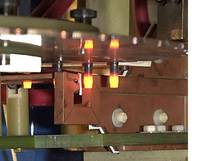 Induction heating offers a greater level of flexibility in fastener applications in both high and low temperature requirements. High speed - high temperature systems for hardening, upsetting and thread rolling. Low temperature applications include powder coating, adhesive patch curing and stress relief in construction, automotive and aerospace applications. Direct localized heating of the specific area minimizes radiant or conducted heat to the remaining work piece providing a more operator friendly environment or work cell.
Both high volume and mixed production processes are compatible with induction for controlled repeatability, strength and quality. As in any manufacturing system, the proper selection of equipment, combined with good manufacturing practices can lead to safe long-term, trouble-free operation.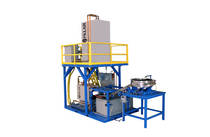 Many types of fasteners require selective heat-treating for the applications they will be used in. Due to the liability of these applications, complete quality control is necessary for each fastener, which requires sophisticated monitoring and accept/reject capabilities. Pillar has addressed these sensitive issues with each system it has built, and tailored it to the requirements of the customer and applicable industry standard.
With the selection of the proper power level, frequency, and inductor design, our automated system can be used for hardening specific bolt threads to a particular case depth. The bowl feeder, rotary dial process fixture, and exit accept/reject mechanism make this a complete automated machine needing only occasional tending.