Pin Hardening System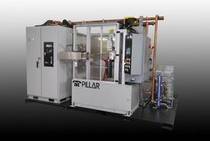 Each scanner includes a precision servo driven tower assembly that is located outside of the processing envelope. This design ensures the susceptible mechanical components are isolated from the harmful environment associated with quench media and particulate contamination.
The scanning motion of the coil offers tremendous improvement in the work height as compared to traditional scanning fixtures. This reduced profile is conducive to improving the product flow and operator comfort due to the ergonomic improvements associated with this design without employing platforms or equipment pits.
Through integration with other major system components the optional unitized package design simplifies installation at the job site which translates to cost savings associated with the installation process.