MK20 MOSFET Converter
Power Range: 2.5kW - 20kW
Frequency Range: 50kHz - 450kHz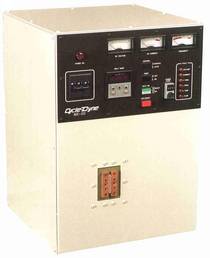 Standard Features:
Direct modern replacement for vacuum tube high frequency generators.
MOSFET transistor modules.
95% conversion efficiency.
Wide matching range capability.
Single main control board.
Full compliment of direct metering for power supply operating conditions.
NEC and NFPA79 wiring codes.
Isolation output transformer.
Series tuned output circuit.
Sealed enclosures requiring no external air for cooling.
Single side access for easy installation of floor modes.
Power Supply Specifications:
Power circuit is direct fired, series tuned, fundamental frequency output utilizing MOSFET power devices for switching.
Constant input power factor of 0.95 or better.
Minimal power output level is 1% of rated power output.
All kilowatt sizes are provided from the factory in current control.
Output regulation accuracy is ± ½% with ± 10% change in incoming line.
Input line to load conversion efficiency of 95%.
Input power requires 3 phase at rated voltage, 50 or 60 hertz.
95 degree maximum inlet water temperature.
30 psi minimum differential water pressure with differential switch protection.
NPT thread connections on water inlet/outlet.
Constant resonant frequency tracking throughout the heating cycle.
Click here to view the MK-20 Power Supply Data Sheet